Barbet Suite
Starts from
₹9,999.00/night

400 sq ft

4 guests

1 queen+2 floor beds

Veg meals included

Free WiFi

No room service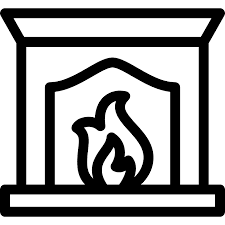 Fireplace (functional Nov-Feb)
About Barbet Suite
Named after the Great Barbet bird, the eponymous suite has been carefully detailed and appointed to reflect the vibrant colors of the bird, whose call you will often hear all around the villa.
Consisting of a large drawing room with a distinctive fireplace and a bright bedroom with an ensuite toilet, the suite also comes with a cosy attic bedroom that has beautiful views of the pine forest on the opposite hill. Both rooms of the suite open out onto an expansive private terrace that offers glorious views of the mountains in front and the valley below.
Relax in the hand picked antique furniture or sink into the beautiful four poster bed. The mattresses have been carefully selected to offer excellent comfort and back support for a blissful sleep. Comfortable window seating niches offer a relaxing way to read or gaze at the beautiful vistas outside. The antique wrought iron-wooden chairs on the terrace are perfect for soaking in some sun or for gazing at the star filled night sky.
Check out our other rooms here.
Suite Details
Room Type: Suite
Bathroom: 1 ensuite
Bedroom: 1+1 attic
Check In: 02:00 PM
Check Out: 11:00 AM
Meals: Vegetarian meals included. See below.
Television: No
Hair Dryer: Available on request
Parking: Free
Board Games: Available on request. See below.
Smoking: No smoking. See below.
Pets: See below
Additional Costs & Services
Adults/Children: See below
Extra people: See below
Laundry: Only washing. ₹200/load.
Train station pickup/drop: Available. See below.
Long Stay Discounts: For long stay bookings, please contact us.
Eco-friendly Initiatives
By staying at Fagunia Farmstay, you are also helping to reduce your impact on the local environment. Read more about the environment friendly measures we have adopted in running and maintaining Fagunia Farmstay here.
Things to Note
This is our dream home which we worked on for years to give it its present shape. While we have done our very best to equip the villa with the best fittings and furnishings to provide a luxury hotel like comfort we request you to be considerate and treat it like your home and not as a hotel. Given its remote location and close proximity to nature, there may be inconveniences that you may face but rest assured we will do our best to offer you a memorable experience.
Our meals are served as per a fixed menu and at designated times in the common al fresco dining area. Our food is a blend of local Pahari cuisine with northern and southern Indian cuisine influences. Read more about our food here.
Lunch on the day of checkin is not included. It will not be possible for us to arrange for lunch on the day of checkin.
Since we are an eco-friendly homestay located in close proximity to protected forests we request you to carry back whatever plastic waste you bring with you as we have no non-biodegradable waste management system on site.
We do not provide shower gel, shampoo, toilet paper, toothpaste, toothbrush, razor and house slippers. Hand wash will be provided. Iron and hair dryer are available on request. Umbrellas are available on request. There is a fridge in the common kitchen if anything needs to be cooled.
Please note that there is no TV or room service
We do not maintain any stocks of packaged food items like bottled water, soft drinks, snacks, maggi etc.
Do note that the village where the villa is located is a bit remote and has only a couple of basic shops which stock bare essentials. The nearest town market is in Bajoon which is 5 km away while the nearest city market is in Nainital which is about 15 km away so please pack accordingly.
Bookings can only be done by an individual aged 18 and above. Anyone aged below 18 years of age will need to be accompanied by an adult to stay at Fagunia.
If you would like us to arrange a pickup or drop for you from the Kathgodam train station or Pantnagar airport, then please let us know at the time of your booking.
Please note that you will need to walk about 500 metres (5-10 mins) down a village path from the parking area to the villa and the villa itself is not accessible friendly so if you or anyone in your group has mobility challenges then we do not recommend booking with us.
The suite can accommodate upto 4 people.
Do note that only Jio 4G and BSNL mobile phone networks work at Fagunia Farmstay.
We have a range of board games like scrabble, chess, darts, poker, carom etc available for use on request on a first come first serve basis. Check out all of our little extras that we hope will enhance your stay experience here.
We will impose a non-negotiable cleaning fee of ₹25,000 if you or your companion(s) smoke inside the cottage or in common areas. Designated smoking areas are available outside.
Early checkin is not possible. Late checkout can be considered upon request. Please inform in advance.
Pricing
Barbet Suite-Pricing
| Normal Season | Peak Season |
| --- | --- |
| ₹9,999/night for 2 people | ₹13,999/night for 2 people |
| ₹1,999/night/extra adult | ₹2,499/night/extra adult |
| ₹1,599/night/extra child | ₹1,999/night/extra child |
Adult: >14 yrs; Child: 6-14 yrs
Child <6 yrs: Free for up to two children in this suite as long as they are accompanied by adult(s). While booking, there is no need to mention number of children if your children are below 6 years of age.
Peak Season: 24 Dec – 2 Jan
Inclusions
Three vegetarian meals (breakfast, lunch and dinner and evening snacks) are included in the tariff for all rooms for booked guests, unless otherwise mentioned. Non-vegetarian meals, BBQ and bonfire (bonfire only between Nov-Feb) are available as an add on option at an extra cost, which you can choose while booking.
Morning and evening tea or coffee are also included in the price of accommodation. During the day, you are welcome to make use of our tea-coffee station to make more black tea/black coffee as needed.
Porterage from the village parking area until the villa is included.
WiFi
Exclusions
Any extra meals, snacks or drinks (alcoholic or non-alcoholic).
Non-veg meals
Veg or non-veg BBQ and bonfire.
Expenses of a personal nature.
Cost of travel to and from Fagunia Farmstay.
Cost of laundry or ironing.
Any costs for special activities or requirements.
Any visa or other fees.
Cost of porterage other than that included.
Driver accommodation or meals.
Pets & Accessibility
We welcome pets but for that you will need to book the whole villa. This is to avoid other guests getting disturbed. Click here to book the entire villa.
Sorry but given our remote off road location we are not accessible friendly.
Cancellation Rules/Terms & Conditions
Please go through our detailed Terms and Conditions here.
Contact

+91 85952 19857‬ hello@fagunia.com