Pawsome Getaways: 5 Pet Friendly Homestays in Nainital
Are you looking for pet friendly homestays in Nainital where you can bring your furry friend along? Then, look no further than Nainital district in the Himalayan state of Uttarakhand. Here, several homestays offer a warm welcome to pets.
Homestays: Home away from home
The ultimate accommodation choice for pet friendly travel is undoubtedly a homestay. With their cozy and inviting atmosphere, homestays create a home away from home where pets can feel comfortable and cherished. Morever, unlike standard hotel rooms, homestays also offer ample space and privacy, providing pets with more room to move around, play and unwind.
With serene mountains, lush greenery, and a cool climate, the Kumaon region of Uttarakhand is a perfect destination to explore with your four-legged companion. If you're planning a pet-friendly vacation, here are five pet friendly homestays in the picturesque Nainital district that you should consider for your upcoming trip.
Petfriendly homestays in Nainital District
1. Gopi's Mudhouse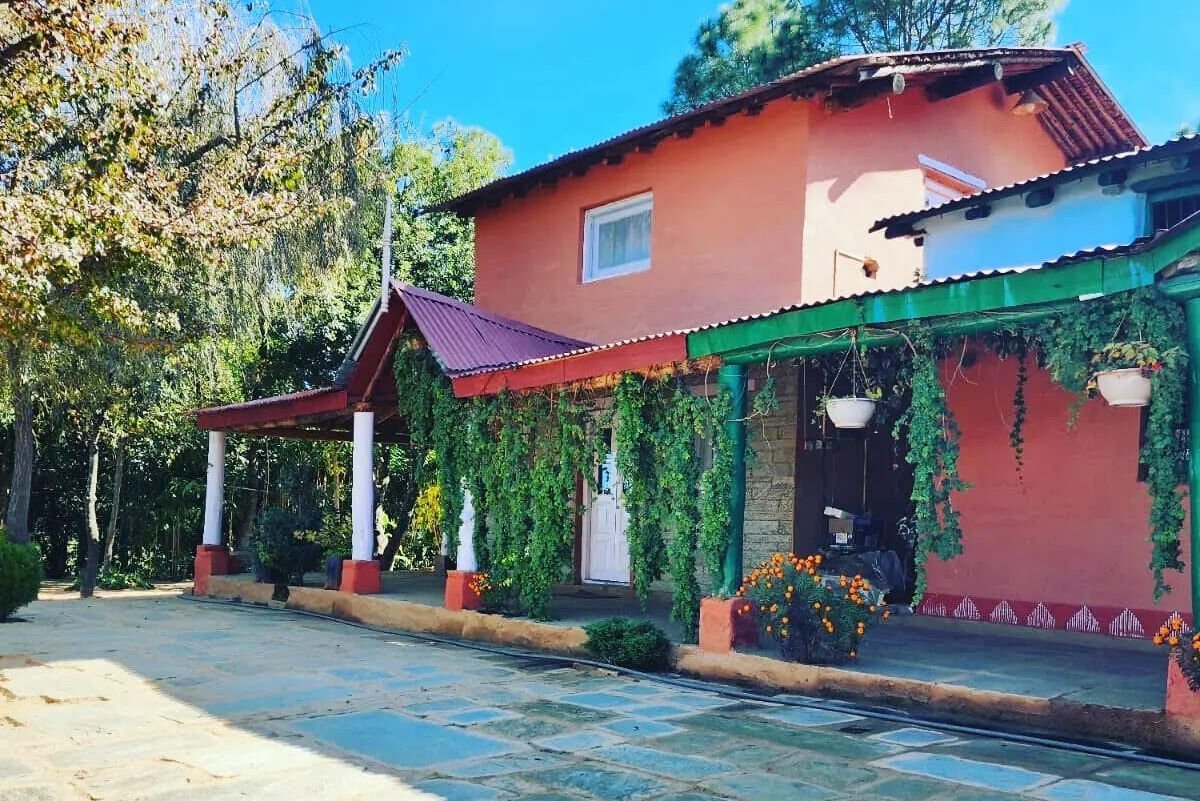 Gopi's Mudhouse in Chatola, and just a short distance from Mukteshwar, offers a tranquil retreat. This cozy earthen house features two rooms and is surrounded by an orchard filled with plum, peach, apricot, almond, and wild bayberry trees. It provides a serene environment for small families, solo travelers, writers, thinkers, and hikers. The property boasts of magnificent views of the snow-capped Himalayas and lush valleys dotted with charming villages.
Gopi, the owner of the property, embodies the essence of a humble farmer. He manages the property himself with the assistance of his wife and sons. Their warm hospitality and fresh, simple home-cooked meals ensure that guests feel welcome and enjoy a comfortable stay.
Furry companions will find joy in basking under the warm sun and feeling the gentle breeze on the patio. Additionally, there are resident pets, a friendly dog and a curious cat, who eagerly await the opportunity to meet and make new friends.
Contact Details
Instagram: https://www.instagram.com/gopismudhouse
Phone: +91 98999 77547
2. Francolin Lodge-Farmstay

Francolin Lodge-Farmstay is a humble abode situated on a half-acre organic farm and fruit orchard. It is located 14 kilometers away from the bustling center of Mukteshwar. Pratik, Preeti, and their adorable pet dog Gabru are the proud hosts of this snug four-room homestay.
Operating as a "home away from home," Francolin Lodge-Farmstay offers a peaceful retreat nestled next to a dense oak forest, where the symphony of chirping birds sets the ambiance. The hosts warmly welcome guests with their pets, with a special fondness for dogs.
The property features four comfortable guest rooms, each with adjacent restrooms. Two of these rooms are located on the top floor and come with balconies. The other two rooms are on the ground floor, providing easy access to the garden area. The main dining room is where the hosts serve fresh organic meals for breakfast, lunch, and supper, ensuring a delightful culinary experience.
To reduce their carbon footprint, the hosts have implemented various eco-friendly initiatives. These include an energy-efficient lighting system, a solar water heater for sustainable hot water supply, grey water recycling to minimize wastage, and rainwater collection to conserve water resources.
Contact Details
Instagram: https://www.instagram.com/francolin_lodge_darima
Phone: +91 98188 78969
Email: Blazinpat@gmail.com
3. Bir Terraces
Bir Terraces is a tranquil retreat located in a remote village called Virkhan. It provides breath-taking views of the majestic Nanda Devi and other Himalayan peaks. Surrounded by dense forests of pine and oak, the property seamlessly merges with the natural mountain landscape. What sets Bir Terraces apart is its commitment to self-sufficiency, sustainability, and regenerative practices. From farming to design, resource utilization, and lifestyle choices, the property upholds principles that honour and respect the environment.
The Cottage at Bir Terraces is a cozy retreat featuring three beautifully designed en-suite bedrooms with balconies, vintage fireplaces, a spacious lobby area, and a beautiful patio. Embark on a culinary adventure at Bir Terraces, where guests are treated to a diverse array of culinary delights. From local Kumaoni delicacies to international cuisine and beloved comfort food, there's something for everyone.
The hosts Avanti & Dushyant strive to create an incredible experience where guests are treated with warmth, care, and a genuine desire to exceed their expectations. In addition, the resident friendly pets here eagerly welcome fur buddies to play and interact with them.
Contact Details
Website: https://www.birterraces.com/
Instagram: https://www.instagram.com/birterraces
Phone: +91 97170 40827
4. The Ranger's Lodge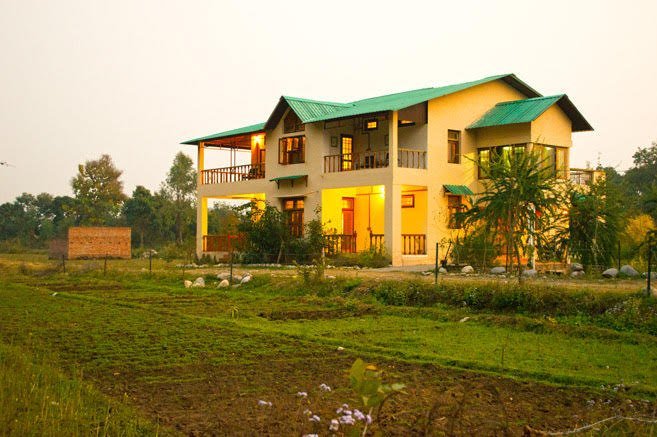 The Ranger's Lodge is a Victorian-style bungalow located on the southern periphery of Corbett National Park. Imran, one of the hosts, has a strong background in wildlife ecology, management, and wildlife conservation. Recognizing the importance of sustainable wildlife tourism as a tool for tiger conservation, he pioneered wildlife tourism in Corbett back in 1994-95.
In 2012-13, he opened his home as the first homestay/bed and breakfast in the Corbett landscape. The Ranger's Lodge offers five independent bedrooms, with Imran and his wife residing in one of the ground floor rooms. The remaining four bedrooms, two on the ground floor and two on the first floor, are rented out to guests. Pets are allowed in the first floor rooms. Each spacious bedroom features a wrap-around veranda of 7 feet wide, allowing guests to immerse themselves in the sights and sounds of the surrounding wilderness.
Imran's wife takes care of the culinary aspect, offering delicious homegrown and home-cooked meals. Imran himself enriches the wilderness experience by sharing his anecdotes and accompanying guests on jungle safaris and birding trails.
Contact Details
Website: https://www.therangerslodge.in
Instagram: https://www.instagram.com/rangers_lodge
Phone: +91 98371 85386
5. Fagunia Farmstay

Nestled on the remote but scenic Fagunia Farm Estate near Nainital, Fagunia Farmstay is an eco-friendly haven. The hosts, Aditi and Anil, a Pahadi-Telugu couple who also live there, crafted this dream home made of upcyled local stone and wood. With its enchanting surroundings of lush forests, seasonal waterfalls and picturesque mountain vistas, Fagunia offers a perfect retreat for nature enthusiasts seeking tranquillity and natural beauty.
Fagunia Farmstay features 2 spacious suites and 2 smaller rooms, spread across 3 levels. All rooms have been meticulously designed with hand picked antique furniture to provide a comfortable stay for guests. The sprawling suites feature a spacious master bedroom along with a charming low-height attic sleeping area as well as fireplaces and private sit outs.
The hosts have put in extensive efforts to make and run the homestay according to eco-friendly and sustainable principles as detailed here.
Pahadi and Telugu cuisines influence the culinary experience here. The emphasis is on simplicity, nutrition, and using locally sourced ingredients. The farmstay prides itself on providing a true farm-to-table experience, utilizing seasonal and fresh produce. Anil and Aditi, along with their friends, recently undertook the impressive task of constructing a Tuscan style wood-fired dome pizza oven entirely by themselves. Their aim behind the endeavor was to share with guests the delightful experience of savoring wood fired, homemade pizzas.
One of the standout pet friendly features at this homestay is the extensive fenced garden for your pet to freely run, play, and indulge in unlimited zoomies.
Contact Details
Website: https://fagunia.com
Instagram: https://www.instagram.com/fagunia
Email: hello at fagunia dot com
Phone/WhatsApp: +91 85952 19857
Contact Directly
While all these homestays welcome pets with open arms, I recommend that you contact them directly. This will help you to understand their specific pet policies before booking. You can thereby ensure that your beloved pets will be accommodated comfortably.
Traveling with your pet can be a great way to create unforgettable memories. These pet friendly homestays in Nainital district offer the perfect blend of comfort and adventure for both you and your furry friend.
So pack your bags, grab your pet's favourite toy, bedding and feeding bowl, and get ready for a pawsome getaway in the lap of nature. Book your stay at one of these pet friendly homestays in Nainital district. And enjoy a vacation that you and your pet will never forget.
About the author
Shikha Khandelwal is the founder of @pawcation_india, a popular page providing pet travel related information. Shikha is a travel and photography enthusiast, and parent of a hyperactive Golden Retriever, Messi. Pawcation India is the result of her struggles to indulge her wanderlust without compromising on her responsibilities as a pet parent.