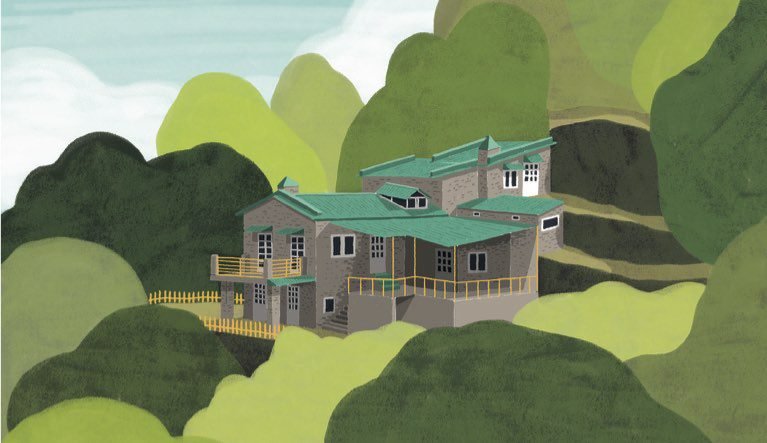 Literally hand built, stone by stone, by a Kumaoni farmer and then lovingly rebuilt and expanded by a Pahadi-Telugu couple, Fagunia Farmstay is a bespoke mountain home that is an epitome of subtle charms and understated, minimalist luxury.
Fagunia Farmstay is an ecofriendly homestay on the stunning Fagunia farm estate near Nainital. Our dream come true home is surrounded by a gorgeous forest, a seasonal waterfall, rural farms and has spectacular views of the mountains in front. We are sure you will fall in love with the place like we did. Our villa is based in a remote but serene hamlet, about 15 km from Nainital town, in the middle Himalayas of the state of Uttarakhand in India. This little piece of heaven is hard to reach but is the perfect place for discerning travelers who are looking to reconnect with nature and for a quiet place to unwind.
Accessed by a beautiful but adventurous drive on a rough track through an enchanting forest, over Raj era arched bridges across seasonal waterfalls, and with a short walk down in the end, Fagunia Farmstay is a special place to experience. With two spacious suites and two cosy rooms spread across its three levels, the sprawling villa is apt for a family or a group wanting exclusive access to the farm estate. Do scroll down to book your stay and also to understand what you can expect from a stay with us.

Choose entire villa or specific room(s)
Fagunia Farmstay consists of a single villa that is built across three levels using local stone and wood. It has two spacious independent suites: Shikra & Barbet on the upper and mid levels and two smaller independent bedrooms: Starling & Sparrow on the lower level. There is a certain quirkiness in the way we have utilized available space that you may have fun in experiencing. Read more about our rooms and check out their unique layouts here. The sprawling farm estate around the villa is home to an active permaculture farm, pristine natural spaces, a seasonal waterfall and many delightful nooks where you can leave the world behind and imbibe the serenity of an unspoiled Arcadia. You can book the individual rooms separately or book the entire villa for exclusive access. The tariff is inclusive of all veg meals for the booked number of guests.